Travel information
Accomodation
We have made reservations at three hotels. You make your reservation with the registration link(s) provided for the registration fee. The location of the hotels are marked on the map below.
Located in the city centre on the main boulevard Avenyn which features nightlife, shopping and restaurants. Approximately 15 minutes walk or 10 minutes ride by public transport to venue (Chalmers). Link to Google directions here
Located in the city centre (about 10 minues walk to the main boulevard Avenyn). Approximately 20 minutes walk or 10 minutes by public transport to venue (Chalmers). Link to Google directions here
Located in the outskirts of the city centre, approximately 30 minutes by public transport to Chalmers. Link to Google directions here

Find your way to Chalmers
Address: Chalmersplatsen 4, Gothenburg

Campus map with directions to the two main conference buildings
Note the location of the Monday pre-conference workshop venue (CLS Department)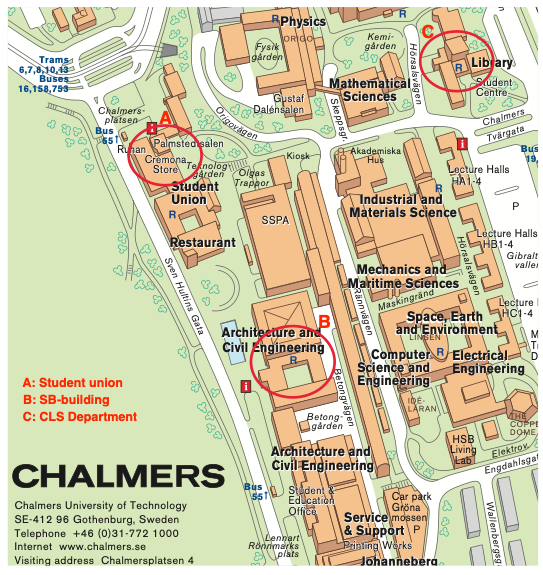 Directions for session rooms will be provided but can also be found via the Chalmers app available here.
Links to Maps, parking and restaurants at Chalmers
Arriving in Gothenburg by train
SJ Swedish railways:  www.sj.se
MTR Express: www.mtrexpress.se
Exit the train at the central station/the Nils Ericsson terminal.  Take bus 16, destination Högsbohöjd, from the stop Nordstan, just outside the terminal. From Drottningstorget, also just outside the central station, you can take tram 13, heading "Sahlgrenska", to Chalmers. From Brunnsparken, approximately 500 meters from the central station there are additional tram lines that will take you to Chalmers. For  more information about traveling with public transport, please see "Getting to Chalmers by tram or bus" below.
Arriving to Gothenburg by air (airport bus or airport taxi)
For information about the airport, please visit www.swedavia.com
It takes about 20 minutes to travel between the airport Landvetter and central Gothenburg. The airport bus costs SEK 95 single way and SEK 185 return, no cash accepted on the bus only credit cards. For information and timetable please visit www.flygbussarna.se.  You can also take an airport taxi which costs approximately SEK 420 to/from Landvetter Airport. Ask for a fixed price. The driver should have a taxi ID card clearly displayed in the vehicle. Service is included in the taximeter price. Avoid unlicensed taxis.
We recommend:
Taxi Göteborg: +46 (0) 31 650 000
Taxi Kurir: +46 (0) 31 27 27 27
Getting to Chalmers by tram or by bus
The following buses are operating Chalmers: 16, 19, 55, 158 and 753. In addition, the trams 6, 7, 8 10 and 13 are operating Chalmers.
For travel information and travel planner for bus and tram download the free app "To Go" or visit the website www.vasttrafik.se. You can by tickets in most convenience stores such as Pressbyrån, 7-eleven etc. or pay with credit card on the trams (not on the bus). Please note that no cash are accepted on buses, boats or trams.
Bike and scooter rental
Gothenburg is a bike-friendly city. Throughout the city you will find bike stands with rental bikes. For only SEK 75 you can rent a bicycle as often as you wish. The first half hour of each journey is always free, regardless of the number of journeys per day. Short time visitors can choose the 3-Day Pass, which can be purchased from any of the credit card terminals for just SEK 25. It is also included in the Göteborg City Card. More information www.goteborgbikes.se
You can also pick up a scooter from wherever you found one, just download and pay via an app to start using the scooter, for instance via www.voiscooters.com or Lime www.li.me
Exploring Gothenburg
Gothenburg is the largest non-capital in the Nordics and located on the beautiful west coast of Sweden. For more information about sights, activities, restaurants, cafés and bars visit the official visitors guide to Gothenburg www.goteborg.com 
Göteborg City Card
Göteborg City Card gives you free admission to lots of entertainment, sights, excursion, Liseberg amusement park and many museums. Parking and travel with trams, buses and boats are included. You'll also get shopping booklets with discounts in selected stores.  The card is valid for 24, 48 or 72 h. For more information www.goteborg.com/citycard